About Control Consultants, Inc.

HVAC/R AND CONTROLS
Control Consultants, Inc. (CCI) is a building controls distributor. Through our online store and Boston-area showroom, we offer customers:
Simple ways to purchase HVAC/R controls and automatic building controls. Orders can be placed through our online store, and by phone, fax, email, or in-person.
An wide array of automatic building control products and solutions
Competitive pricing
Extensive inventory with many in-stock items
Friendly, responsive customer service
Industry knowledge and product support

BUILDING INTEGRATION CONSULTING & SERVICES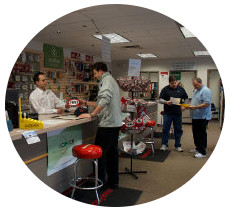 At Control Consultants, Inc. (CCI), our single overriding purpose is to help our clients conserve energy in their buildings. In addition to selling building controls, we provide innovative, cost-effective control solutions and web-based facility integration designs across a spectrum of facility types including Commercial Buildings, Schools, Universities, Hospitals, Government Facilities and Retail locations. Services CCI provides include the following:
Application Engineering
CCI can work with your staff to review plans and specifications. We can assist your consultant on a design build project. Leverage our expertise to analyze your requirements and assist in selecting the right control equipment and strategy so that you move forward with the most competitive and effective control solution for your present and anticipated needs.
Auto Cad Drawings
Whether we have provided you with a solution or you simply require professional drawings, our staff of Auto Cad engineers will produce quality drawings for your use in submission or installation. A typical set of drawings will include point-to-point wiring diagrams, sequences of operations, as well as damper and valve schedules.

Panel Fabrication
Custom-built to customers' requirements for a variety of applications and industries, Control Consultants Inc. can design and fabricate UL-certified control panels to meet your every need. We will also build control panels from your supplied engineered drawings or bill of materials and also rebuild your existing panels to today's standards and make modifications to meet your current production needs. All panels are wired for easy terminal block field connectivity and are color-coded for quick and accurate terminations. All panels are powered up and tested point-to-point to assure a worry-free startup at the jobsite.
Trainings
Throughout the year, we offer technical training courses for control contractors, HVAC professionals, end users, and others. We've offered Niagara 4, Niagara AX, VYKON Pro, Spyder, Actuator/Valve Trainings, and many others. Visit our training schedule for more information and to register.
HOW TO REACH US

Have a question or need a building automation product you don't see listed on this site? Just don't like placing orders over the Internet? Give us a call at 781-335-8353 x4.
Visit CCI's Contact Us page for more information about how to get in touch.