Analytics Software for a World of Smart Devices
SkySpark helps facility owners and operators find what matters™ in the vast amount of
data produced by today's smart systems.
---
What is SkySpark from SkyFoundry?
SkyFoundry's SkySpark® is a licensed software that can help building owners and operators effectively collect, manage, analyze, and derive value from the tremendous amount of data available from smart and connected devices.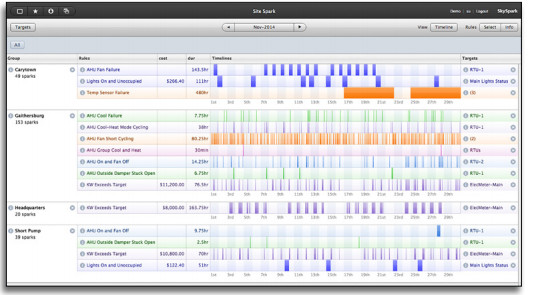 From automation systems to electric meters, thermostats, appliances and even individual sensors – smart devices of all types are now capable of communicating valuable data about their operation and environment. Access to this data opens up new opportunities for improved performance and the delivery of value-added services to reduce costs, and validate investments in energy savings measures.
---

Use SkySpark's Apps to Visualize Data and Analytics
SkySpark collects, manages, and analyzes your data. The software works with data of all types – whether via a live link to an automation system or smart meter, connection to an SQL database, import of historical data from Excel files, or a web service feed from a utility. SkySpark then automatically generates visualizations, notifications and reports that show the issue, time of occurrence, frequency, duration, and even cost. SkySpark can email notifications to operators and auto-generate reports in a range of formats including PDF, SVG, PNG, HTML and others. You can then see your data presented in a standard web-browser using HTML5 technology – no plug-ins are required.
Leverage SkySpark's rich set of apps to visualize your data and analytic results and create reports that are easy to print and share.
---

Ask Us About SkySpark
Control Consultants, Inc. is proud to be a trusted distribution partner for SkySpark.
Find out more and order the SkySpark software directly from our online store, or contact our Sales Team to discuss which SkySpark license is the best option for your needs.